The world of User Experience (UX) design is constantly evolving, and creating amazing user experiences is crucial for the success of any product or service. Every day we make thousands of decisions, often unconsciously, that impact our lives in some way. When planning a product, it's vital to consider how your user's experience will dictate the decisions they make.
For decades, the best UX designers have been able to direct & predict user behaviour, before the product is even built. However, it's not just about practicality and design anymore.
Amazing user experiences are now about tapping into behavioural science to understand users' emotions and patterns, before applying this to produce truly unforgettable experiences that just work for the client and their audience.
We sat down with our Creative Director, Gemma, who specialises in all things Digital and UX, to speak about what user experience means for her, and the UX goals she follows for each project.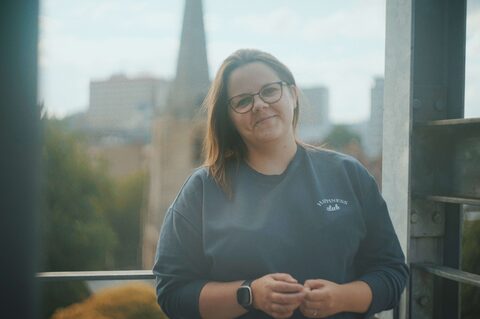 How Would You Define UX Design?
In basic terms, it's 'creating design that users interact with', but to produce UX that works and keeps your audience engaged, you need to go beyond the fundamentals. Look at how people will interact with the design, and how you can influence key movements through the application or website. People nowadays aren't just looking for ease, they're far more interested in the extra experience your brand can offer.

Of course, the main objective is to give consumers what they need out of the product or service. However, we need to think about how they feel alongside the functionality of the design to create inspiring experiences that people want to keep coming back to. To do this, the experience needs to be enjoyable and not feel like a chore to get through the website or product. With that all being said, in simple terms, UX is creating designs that users want to interact with.

What Is The First Thing You Do When You Get A UX Design Brief?
First, we question who? - Who are we targeting? If there is a new UX brief it is usually because there is a problem and the client is looking for a solution. We need to know who their consumer is and dive into the consumers' world to gather all the insights we can to be able to piece together a solution that works for them. If you don't understand your target audience, you won't be able to produce the design that they want.
UX is about tailoring solutions. We want to know their thoughts, feelings, behavioural patterns and any pain points they have to be able to build the perfect experience to suit them. Their behaviour and how they interact with the brand are key.
When producing UX designs there are 3 main areas we think about to reach the 'sweet spot':
Desirability - Is the experience attractive and useful for the end user?

Viability - Does it make sense to the business? Is it cost-effective? Does it help boost sales? Does it help the customer journey?

Feasibility - Is the experience something the business can use and keep up with? Does it fit the business and its capabilities?
Finding the right balance between these criteria will land you in the sweet spot of both what is realistic and what is needed, allowing you to produce the ideal experience for both the client and their consumer.
Where Do You Take Inspiration From?
Once I know my 'who' I head to WGSN, a global consumer trends forecaster. Their data helps me understand the target market's behaviour and lifestyle. As we spoke about earlier, we need to know who we are targeting and the ins and outs of their lives to be able to create an experience that will be suitable and exciting for them.

From a creative perspective, I like to keep up-to-date with Behance and Awwwards to see what's happening in the creative space. It's really useful to see what's best in class at this minute for my designated audience. From these, we can combine the key commonalities from the trending design that best suits our target audience.

Another key part when starting new briefs is collaborating with the wider multidisciplinary team here at Together. Being able to pull multiple perspectives from a variety of backgrounds is so helpful to create these inspiring experiences.

How Do You Know What Will Work And How Do You Test This?
There's a set way of working I like to use called Agile methodology. This method allows you to manage a project by breaking it down into several phases and involves constant improvement at every stage. It starts with planning, all the research and inspiration comes into play here, and then once we've gathered all the information we need, we can move on to the execution and evaluate the design. This way we can produce a design and trial and test it at every level enabling us to reach the best possible outcome.

Consumer insights are super important here as well, whether it's a report or actually speaking with them, this feedback is valuable to improving your design and providing your client with the best possible solution.
Give Us Some Examples Of Good UX and Why You Like Them?
The first brand that comes to mind is Ikea. They have the strongest navigation in the market, online, in-store, and when you interact with the end product. The design is seamless, and the same one-way flow through the store is copied over to their online store experience. It may not always be the most visually pleasing but it does exactly what the brand stands for, simplicity and functionality.

For a more immersive experience, I'd have to say Gucci. They have such a strong brand, and their products are so popular, there isn't a need to promote them as much as other brands. However, what is important is to sell their brand and the experience. They're selling an immersive world they want you to be part of. They want you to interact with the brand, rather than focus on the products.

Ultimately, how good the UX is depends on what the goal is. Ikea's goal is to show an easy, seamless shopping experience for multiple items, so their basic navigation is great at allowing customers to do this. Clean and simple, just like their stores. However, Gucci wants people to be a part of their brand. Typically people buy Gucci to indulge in the image, and not just for the product, so the wider experience of the brand incorporates this.
When it comes to UX design, you want to always be thinking about the three main areas; desirability, viability and feasibility.
TELL US THE 6 UX GOALS YOU SET TO CREATE AMAZING EXPERIENCES
1. SOUND STRUCTURE

One of the most vital parts of UX is ensuring there is a clear wayfinding navigation. Users need to be able to use the app or website easily. You want your audience to be able to interact with all your content. You also need to make the customer journey clear, having clearly labelled navigation and CTAs will help with this.
Again this is something that can be trialled and amended, when looking at reports you can see the journey a customer has been on, you want to ensure this is as smooth as possible so they don't give up on using the site.
2. TOP OPTIMISATION
There are a number of different platforms and devices your design could be presented on. This is why you need to make sure your design is responsive and optimised to give viewers the best experience - regardless of how they are viewing it.
On top of this, you need to ensure your site is visible when people are searching for your brand or similar services or products that you offer. This is often down to SEO (Search Engine Optimisation) performance. We won't get into the ins and outs of SEO now as that's a whole other conversation, however, for starters, you need to ensure your company's keywords or descriptors are clear in your text and digital structures.
3. ACCESSIBLE
Make sure your design can be digested and understood by any audience. This includes using the right colour contrast and text sizes so it's easily legible. You must always think about how people will be viewing this. For example, people use page readers, so you must ensure your design is compatible with this, you don't want to leave anyone out.
4. RELEVANT
The digital world and the way people interact with it is constantly evolving and changing. You need to make sure your design is relevant and kept up to date. Regularly review your designs, builds and products, as well as their digital capabilities. User experience changes along with the trends in the market, so it's essential to keep up.
5. PURPOSE
What is the main objective of the brief? Your design must meet this. For example, e-commerce websites and apps trend toward being functional and simple, as usability is key to enabling sales.
To refer to the previous example, for brands such as Gucci, telling a story and making the audience involved with them and the products is of higher importance. The audience is buying the brand experience, not just a product, and Gucci's website shows this.
6. BRAND RESPONSIVENESS
You want to make your in-store and online presence seamless. If the user interactions at both stages are the same, it shows a strong brand design. Take Ikea as the prime example here, as we spoke about earlier.


So, that's the low down on Gemma's top 6 UX design goal areas. When it comes to UX design, you want to always be thinking about the three main areas; desirability, viability and feasibility. If you manage to find a balance between those three and follow the 6 key steps from above, you'll be onto a winning digital experience!
___


Ever expanding, evolving and elevating, digital design gives you a myriad of ways to connect with your customers. At Together, we'll help you zero in on the right platforms. For us, everything's grounded in research and insight. We tap into digital behavioural trends. We track user journeys. We run persona workshops. We apply Apple design principles.
For beautiful projects, and bang-on results get in touch with our team today.